Posted in News.
By LooseCanon – June 8, 2012
---
---
---
Scott Hume's online comic starts tonight be sure to check it out at www.blackgrease.com
Good Luck Scott
Posted in News.
By LooseCanon – January 26, 2011
---
Posted in News.
By LooseCanon – July 23, 2010
---
Folks at the Brott Music Festival are looking to commission some work. This is a great opportunity to get some exposure and I highly recommend it.
BROTT MUSIC FESTIVAL IS COMMISSIONING 7 LOCAL ARTISTS

ARE YOU A VISUAL ARTIST?

The Brott Music Festival is looking to commission 7 visual artists to create original works inspired by 'The Planets' orchestral suite by Gustav Holst.

Selected artists will receive an honorarium of $175 and retain ownership of the piece.

The selected art pieces will be projected /displayed on a multi-media screen while the 50 piece National Academy Orchestra performs "The Planets" live.

WHAT SHOULD YOU DO?

Selected artists will be asked to CREATE – a work describing one movement of the 7 movements: (Mars Venus, Mercury, Jupiter, Saturn, Uranus, Neptune)

REMEMBER – when Holst composed this work he was inspired by the astrological forces affecting the human psyche.

SUBMISSION PROCESS

- Send 2 samples of previous work and /or a link to your website if applicable by May 15th 2010

- Suggest 3 movements that particularly interest you – one artist per movement will be chosen

- A link to hear the movements is http://www.youtube.com/watch?v=6NeQ1h6lzLI&feature=related or contact us for a CD

Additional information:

Minimum size for paintings – 16" x 20"

All visual art forms are accepted including sculpture, collage, glasswork, photography, film

For more information contact Heather at hmueller@brottmusic.com 905-525-7664

Heather Mueller
Artistic Assistant
Brott Music Festival
905-525-7664 ext. 16
www.brottmusic.com
http://brottmusicblog.blogspot.com
Posted in News.
By LooseCanon – April 28, 2010
---
April 1st marked the 5th year LooseCanon has been on James North. For the past couple of years April has hosted a series of shows entitled God Damn (whatever). They have been super fun and this years will be about the Circus. Below is what happened at year one.
April is LooseCanon's first year anniversary and features Amy Reader's Perceptional Truths. The reception will be Friday April 7th. To properly celebrate such a momentous event such as a gallery making it past a year, there will be a gathering at Backstreet (its a bar literally seconds away from the gallery)on Saturday with DJ Buttrum handling the music chores. Any more details will come later. Of course in true LooseCanon fashion Backstreet is in no way involved in this event and will be continuing its regular scheduled kareoke as soon as we leave. Oh do I ever have connections…
Funny, after that I never thought Backstreet would change. Now it is no more… sorta.
Posted in News.
By LooseCanon – April 10, 2010
---
The Immortal Iron Fist (Marvel)
Written by Matt Fraction and Ed Brubaker
Artists, David Aja with several guest artists.
Like many boys, I began reading comics as kid with Spiderman. I don't know what initially brought to that title but I was hooked immediately. Peter Parker is this perfect mix of what you dream is possible with super powers with some of the relatable real-life  aspects and the hilarious villain banter that energized the story. Other heroes were either too dark and dramatic (Batman), cheesy and campy(Captain America) or too convoluted and lame (X-Men). I have periodically left comics because of boredom with spandex stories or extreme frustration with lackluster art (I've always hoped to become a penciler).  For the past couple years now I have been steadily acquiring trade paperbacks of collected stories. At this point I have expanded my tastes to include a variety of genres outside of capes. As diverse as film, comics offer the reader such a glorious range of stories that I barely go to the theater any more.
Having created an extensive library of different titles, I continuously lend out books in an attempt to hook new readers. What I thought would compliment that process would be to feature some of these books. Since this medium is so strongly influenced by the art I figure that loosely ties it to the gallery.
Iron Fist is one of those pulpy campy characters that were created to cash in on some period pulp culture trend. In this case, Bruce Lee kung-fu action. Some sequences would look like they were traced from Enter the Dragon. As a result of this blatant commercialized story telling, Iron Fist was basically an empty pastiche of millionaire playboy who fights
crime or ninja crime in this case. The character was generally an aimless and pointless B hero. However, like many B guys he had something intrinsically cool. Iron Fists! Hot damn, being a martial artist millionaire was a good start but this guy can destroy anything with a super-powered punch. Visually, he had a nice nod to Spiderman's mask and a awesome dragon tattoo on his chest. Obviously, I need to say no more. In comics there are your sacred cows like Superman and Spiderman that are more or less the same as when they were created. For the most part they may play different music but they are doing the same dance. So for writers B level creations offer up an opportunity to mix it up. If a writer can manage to build a story about a hero that is isolated from his peers' shared universe, then prepare for some potential awesomeness.
Enter Matt Fraction and Ed Brubaker. Its not often that you see writer collaboration and not often do you see it last quite as long as it has in The Immortal Iron Fist. These 2 fellas took the intrinsically cool concept and went nuts. The Iron Fist immortality was turned in to a mantle and tradition that was mythologized. Now the character had a history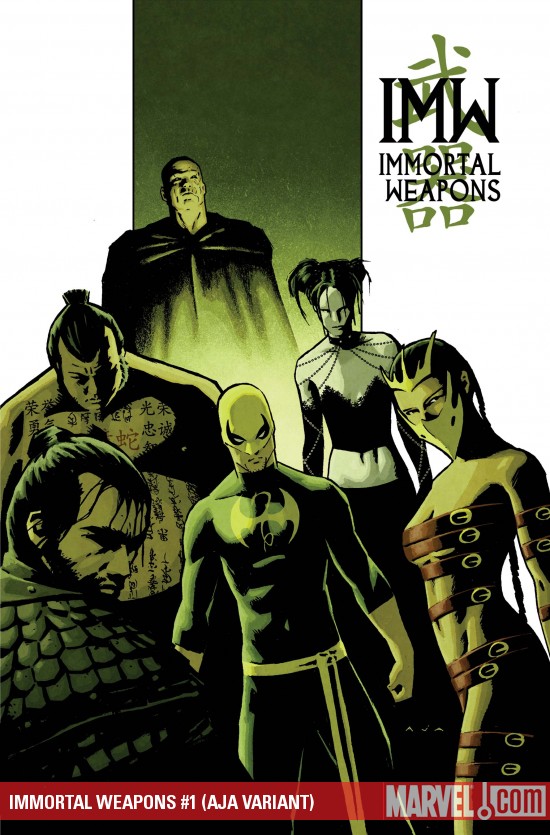 of tragedy and triumph to carry. The supporting cast were given motivations beyond plot devices. An ensemble of interests vie for control of mystical forces that are in a state of tenuous equilibrium. The writers also chose to delve deeper in to the source and capability of the Iron Fist. Encompassing all these perspectives, the reader follows the main character as he is ripped from his campy pulp origins into a full fledged, adventure mystery.
A successful comic depends greatly on how well the writer and artist can meld together in service of the story. David Aja performs phenomenally. Modern comics are blessed with such a diverse variety of artistic talent that the "company style" has mostly vanished. A title's identity is very clearly linked to the how well an artist can differentiate from their peers. With Aja, the major success lies in his ability to convey kung-fu, a totally live-action genre, in the static page of a comic. He has made a compromise but has not lost the flare and charm of the action. The only exception with this series is the sporadic inserts of other artists. What would normally be considered fill ins, artists have been incorporated into the story arcs to tell back ground tales. This helps the reader distinguish between the current tale and some mythologizing background tale. Most are quite successful but others make you cringe. It can and has made it quite difficult to get through some of the trades.
As far as books on the stand and in my collection this one rates up there. Generally, I recommend any series that I get more than two trades. With Iron Fist I'm on four.
Posted in News.
By LooseCanon – April 1, 2010
---
Posted in News.
By LooseCanon – March 27, 2010
---
The Hamilton Spectator sensationalized the meandering ramblings of a man that identitfied himself as a respected Hamilton lawyer over a year ago. True to form, the City's paper failed to follow up on that tale as evidence surfaced this summer. It certainly was not a leap in logic to assume witnessing a "little horse pulling a wagon down James" meant someone needed change the filter on their distiller. Respected resident of James North, Joe (Former, Canadian European*), seen in the photograph, authenticated the little horses tangibility. He  gave
quite an extensive explanation on how to care for little horses to the little horses owner who found it truly insighful and wished he had a pen.
*Note that Joe is not a Canadian European, if even that is possible but an Italian Canadian with a store called Canadian European. So he is a former store owner not former whatever a Canadian European is?
Posted in News.
By LooseCanon – March 16, 2010
---